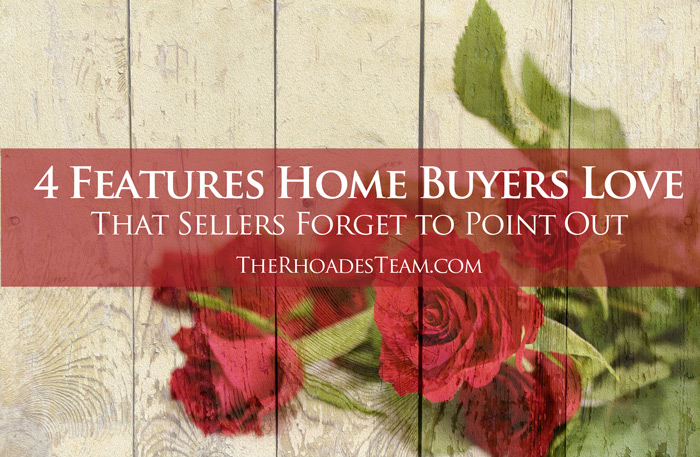 If your home features an in-door pool, a Sub-Zero fridge and Viking stove fit for a commercial kitchen, or a private backyard oasis with fountains and a tennis court, then your listing description pretty much writes itself when selling your home. But if you live in a fairly average house in an average neighborhood, there may still be some pretty amazing features you've grown used to that might actually have buyers falling in love if you point them out.

Take a look at these 4 features buyers love that sellers sometimes forget to point out.
Location. Yes, potential buyers will be able to see your address on a map, but they might not be aware that it's nestled within walking distance of a great little market or a beautiful park or a major employer or a highly rated school. Your proximity to desirable features might push your property to the top of a buyer's list, so talk with your agent about how to highlight this feature.
"Aging In-Place" Features. Your home doesn't have to be fitted with handrails and ramps to appeal to Baby Boomers, but many are looking for homes that are single story, have low-maintenance lawns, and no stairs at the front entrance. Even homes that feature "mother-in-law" suites, second master suites, or independent living quarters are hugely attractive to buyers who have aging relatives living with them.
Storage. Even if you've outgrown your home, it's all about showing off the space you've got! Having plenty of space for everything is a big motivator for many buyers. Empty the closets as much as possible, under stock the pantry, clear out built-in storage areas. Be sure to point these places out to your listing agent!
Energy Efficiency. If your home runs entirely off solar panels and rainwater, chances are good you'll point that out in your listing. But even buyers who aren't searching for homes off the grid appreciate energy efficient features, like quality insulation, tankless water heaters, and double-paned windows. Make a list for your agent of all the upgrades you can think of!
Remember, there are many buyers out there who love these sorts of features already being in place in a home, so pointing them out (especially if you're in a market with lots of competition) can call your home to their attention. The Rhoades Team works closely with it's clients to find selling points you may have overlooked. Give us a call at (713) 515-3463 or contact us here, and we can help you navigate how to broadcast this message to buyers.
You can also download our FREE Guide for Home Sellers here.