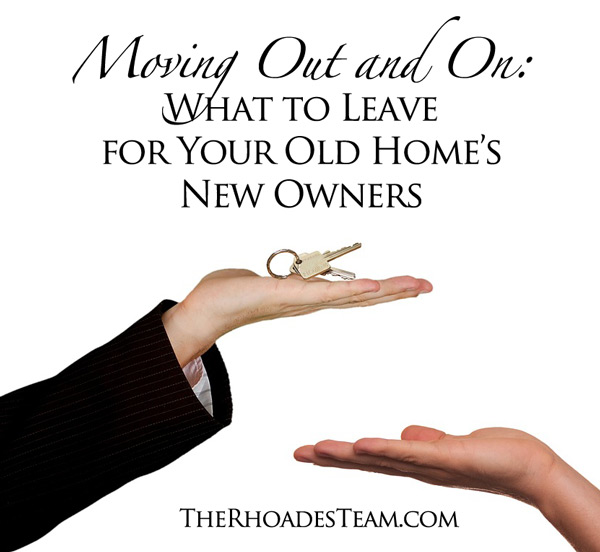 You're in the home stretch — option period is over, closing date is set, and boxes are packed! You're almost ready to hand over your house to its new owners, but what exactly should leave in the house?
No dirt. Sweep crumbs, vacuum and mop floors, wipe up that spill you forgot about behind the fridge. No one wants to walk into a dirty, new-to-them home so be nice and clean it up. Short on time? Hire a cleaning service (we can even help with recommendations).
Extra keys, remotes, codes, and electronic openers. Leave all copies of keys to front and back doors, garages, and storage buildings. Provide written instructions on how to change any codes, if possible.
Appliance manuals and warranty information. If you've still got them, compile the manuals for your stove, oven, dishwasher, and any other appliances that will convey with the home, and stack them neatly on a kitchen counter.
A list of the leftovers. Make a note of any home improvement leftovers, like touch-up paint, flooring, light bulbs, or filters, and where the new owners can find them stored.
A how-to list for anything "quirky." Do you have a hallway light that's controlled by two different switches? Or do you need to sometimes jiggle the lock on the front door to get it to close properly? Is there a hidden electrical outlet that's useful to know about? Make a list for the new owner to help them adjust and start feeling at home.
The 4-1-1 on the neighborhood. Leave business cards for the lawn or pool service you use and who you recommend for pest control. Let them know what day the trash service comes by and where they should leave the trash can. Are there friendly neighbors with similar interests or same-aged children? Any additional neighborhood info will help the new homeowners feel more welcome.
Are you ready to make the move to your new home? Maybe just curious what your home is worth in today's market? Give The Rhoades Team a call at (713) 515-3463 or contact us here, and we'll help you get started!