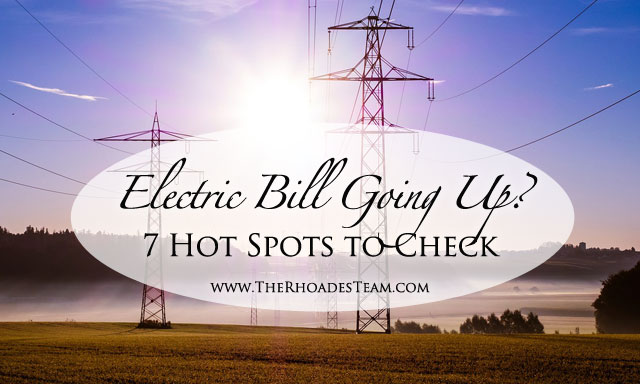 Houston, Texas is notorious for extremely hot, humid summers. Often the easiest (and sometimes only) way to get comfortable is by running fans and air conditioning. But should you be seeing rising energy costs this early into the spring season? If your electricity bill is already climbing, here are a few hot spots you may want to check:

Research your plan. In Houston, we have the ability to select which electric provider we want to use. Perhaps you were on a special money-saving plan that recently expired, or maybe you have a plan that charges more for electricity during peak usage hours. Visit PowerToChoose.org, the official and unbiased electric choice website of the Public Utility Commission of Texas, where you can compare offers and choose the electric plan that's right for you.
Poor insulation. Experts recommend at least 16 to 18 inches of insulation in the attic — without it, it can cost significantly more to heat and cool your home.
Aging thermostat. Check for dust, which can block with the temperature sensor, as can insulation behind the thermostat. These issues can lead to a thermostat that's improperly calibrated, thus resulting in higher electric bills.
An increase in visitors. More people in the house means more appliances being used and more doors being opened and closed to the outside, all of which contribute to higher electricity usage.
Leaks in ductwork. If your air filters get dirty quickly or you're noticing an excessive amount of dust around the house, your air ducts may not be properly sealed. Improperly sealed ductwork can leak 20% to 30% of the air that moves through the system, causing it to work much less effectively and your electricity usage to increase.

Faulty seals. If you can place your hand near a window or door and feel air coming in, the seal may be damaged or missing. Loose seals allow inside air to escape from your home, causing your system to work harder and use more energy to maintain the temperature you want. Replace or repair seals around windows and exterior doors to make sure you're not letting out any of that expensive cooled air.
System failure. Malfunctioning equipment, refrigerant leaks, and dirty coils can all cause electric bills to soar. A complete system inspection by a qualified HVAC technician twice a year (once in the spring and again in the fall) is a good way to make sure you stay on top of any issues.

Whether it's fighting high energy costs or negotiating the best deal on a home you want to buy or sell, The Rhoades Team cares about helping our clients get the best value. Do you know someone who's thinking of buying or selling a home? We want to help! Give us a call at (713) 515-3463 or contact us here to get started.