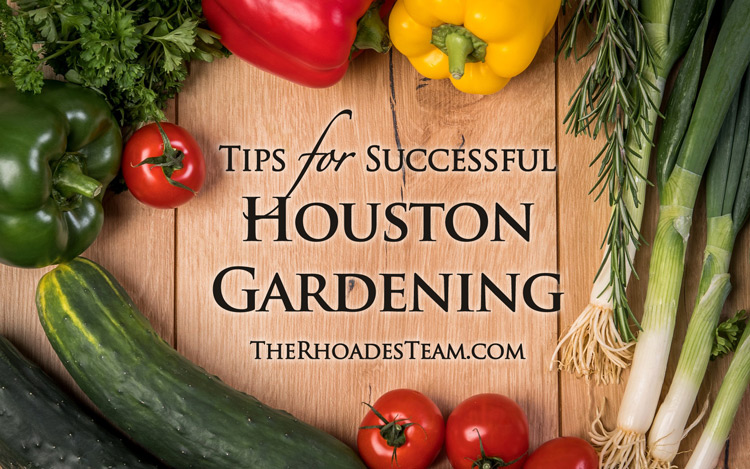 There's nothing like a lush, verdant garden of your very own. Whether you just want to plant flowers or wondering what are the easiest vegetables to grow, the year-round warm weather in Houston offers plenty of opportunities for experimentation. Grab some soil and seeds and find yourself a sunny spot in the yard as The Rhoades Team shares our springtime tips for successful Houston gardening.

Begin deep root watering (with a soaker hose, for example) on trees, lawns and shrubs for best results. This encourages roots to move down into the soil where they will be less vulnerable to moisture changes.
Continue watering your lawn between rainfall. Add compost for healthy turf roots.
Gather rain water in a bucket and use it to water your plants. According to the University of Houston's Office of Sustainability, "when you're done watering a bed, you should be able to scrape back an inch of soil with your finger and still see moist soil, if you see dry dirt, keep watering."
Plant seeds! Lots of veggies, like okra, cucumbers, chives, pumpkins, basil, sunflowers, and peppers grow well in Houston. Tip: Want spicier peppers? Cover the soil around the pepper plant with black plastic (e.g., trash bags). The heat of the soil affects the heat of the peppers.
Pull weeds early. Make sure areas are mulched properly to prevent future weeds from sprouting and to help retain soil moisture.
Start an herb garden. Many herbs will grow year-round in Houston, such as lavender, basil, lemon balm, and rosemary.
Stop slugs and snails by placing a ring of crushed eggshells around affected plants. They'll avoid crossing over those sharp shell edges, and the decomposing eggshells slowly add calcium to the soil.
Deter aphids. These little brown and yellow bugs love flowering plants, but you can take them down without hurting your crops by spraying them with a mixture of a gallon of water and a teaspoon of dishwashing soap. Ladybugs are also an excellent choice for aphid control and are available at organic gardening stores.
Have you dreamed of starting your own garden, planting your own flowers, or even mowing your own grass in a home of your own? We can help make that dream a reality! The Rhoades Team are experts in Houston area real estate. Give us a call at (713) 515-3463 to get started or download our FREE guide, Buying Your First Home: Everything You Need to Know.
Title image by Lubos Houska from Pixabay