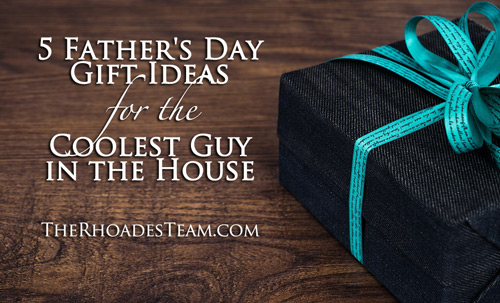 Dad.

He regales you with lame jokes. He fixes the broken toilet (or at least knows the number for a plumber). He cuts the grass. He reminds you that money doesn't grow on trees and that he's not trying to air-condition-the-entire-back-yard-so-shut-the-door-for-Pete's-sake.

He loves you more than he can say.

If you're looking for a little gift inspiration this Father's Day, look no further! The Rhoades Team is sharing some of our favorite ways to show appreciation to the big guy in your life.

Corn hole game set. This game is fun for the hole family, and it's super easy to set up and take down even in a smalll back yard.
Hammock. Most dads love sleep and could use a little extra rest. My favorite is a giant cloth sling-style Brazilian hammock we received years ago from friends, but if you don't have trees big enough to support one like that, you can find one that comes with it's own stand.
Multi-tool. This is one of my all-time favorite gifts, and I use it all the time: putting up real estate signs, cutting tags off things, randomly needing a screwdriver somewhere…I'm also the Scoutmaster of a large BSA troop and outdoors a lot — a good multi-tool, like a Leatherman, is a lifesaver when you're camping!
Smart home speakers. These are available at a variety of price points from both Amazon and Google, so there's something for every budget. They're easy to connect to your Wi-Fi network and simple to use for everything from streaming music and movies to ordering a pizza.
An amazing meal. We dads appreciate a delicious meal. Whether it's going out for a steak dinner or something prepared in your own home, the way to a dad's heart is through his stomach.
What are some of your favorite ways to celebrate Father's Day? Share them with us! And if we can help you… or your dad… or some other dad you may know who's looking to buy or sell a home in the Houston area, give The Rhoades Team a call at (713) 515-3463 and we'll help you through every step of the process.
Image by Harry Strauss from Pixabay