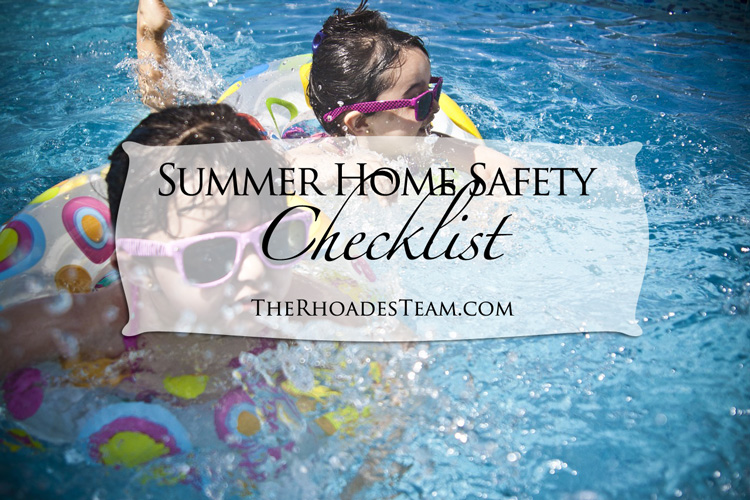 There's nothing quite like summer fun, but keeping family and friends safe should always be top priority. As you head out for vacation or just enjoy some warm, relaxing afternoons in your own backyard, keep these summer safety tips from The Rhoades Team in mind…

√ Protect your home. Property crimes spike as the weather warms up. Keep the lawn and landscaping maintained to remove potential hiding spots for burglars. Repair any damaged door locks or window latches. Install motion lighting, and make sure all walkways and points of entry are well-lit. Security cameras can offer additional peace of mind.

√ Keep your plans quiet. Avoid publicly discussing travel arrangements. If your kids are going to be home alone, don't mention it on social media.

√ Practice proper safety near water. Drowning is responsible for far too many summer deaths. Watch children around water at all times. Learn to swim. Wear the proper flotation devices. Use proper barriers to restrict access to pools and other bodies of water. For more excellent water safety tips, check out one of our favorite non-profit organizations, Colin's Hope.

√ Avoid alcohol while out on the water. Adult water-related deaths are often the result of drinking while on watercraft or prior to swimming. If your summer partying involves a few drinks, choose to enjoy your water play first, then have cocktails when you're finished and back on land.

√ Use caution with chemicals. Summertime brings out a lot of potential poisonous chemicals for pets and children, including pesticides, lawn care and pool care products. Use locks or safety latches to store anything labeled "Poison," "Caution," or "Danger" out of sight and out of reach of kids and pets. When applying these products, take the time to follow directions and use protective eyewear, gloves, or masks according to the label.

√ Respect the power of the lawn mower. And the weed eater. Keep children and pets at a safe distance while using these appliances. Earplugs or muffs are a great way to protect your ears from the noise, and safety goggles are a must.
A few proactive measures can make a big difference in keeping your family and your home safe this summer, and helping our home buyers and sellers stay safe is a responsibility we take very seriously. Happy summer from all of us at The Rhoades Team, and remember if you're thinking of buying or selling a home or know someone who is, give us a call at (713) 515-3463 or visit us online at TheRhoadesTeam.com.

Title photo credit: "Sunglasses" by Pexels via Pixabay